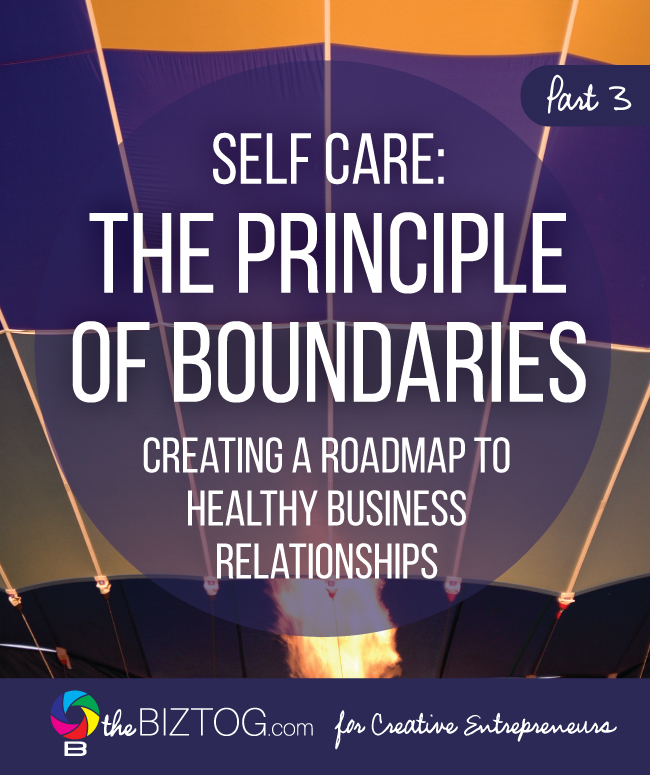 Establishing healthy boundaries is the second principle and third post in our Self-Care for Creative Entrepreneurs series.  If you've missed any of the first posts you can check them out here:
Self Care is not Selfish – Or Lessons I've Learned the Hard Way
What is Self Care?: Stop Surviving, Start Thriving – Part 1
Self Care: The Principle of Creating Space – Part 2
Have you ever heard the saying that goes something like: Your 'yes' doesn't count if you can't say 'no'?  I started out in business saying 'yes' to every question clients asked:
Can you do this? Yes.
Can you do this for a ridiculously low budget? Yes.
Can you give up your weekend to finish my project because of my lack of planning?  Yes.
Can you do this project that you don't want to do?  Yes.
I said 'yes' until I felt totally burned out, creatively dead in the water, and an older and much wiser person sat me down and told me that if I wanted to be in business for the long haul and not burned out by the time I reached 30 I needed to have boundaries.  I have now made it halfway from 30 to 40 and it still stands as one of the best pieces of advice I've received.
Boundaries are guidelines, rules or limits that a person creates to identify for themselves what are reasonable, safe and permissible ways for other people to behave towards him or her and how they will respond when someone steps past those limits. (source)
Healthy boundaries communicate that you value yourself, your time, resources, and energy.  They give your clients and those around you a road map to establishing a healthy working relationship with you.  Boundaries do not control someone else's actions.
For example:
Situation: Clients ask for work to be done beyond the scope of the original project and expect no additional cost.
Boundary: Bids are specifically laid out and clients are clearly informed in the process when an 'ask' is going to lead to additional time and cost and then they are charged accordingly.
Establishing healthy boundaries in your journey to self care as a creative entrepreneur can really be as simple as that!

Applying Boundaries to Your Business
Start by brainstorming
If I could give you access to my personal notebook you would find that I am a raving fan of brainstorming.  (I also need to take a handwriting class so I can read my own writing but that's a discussion for another day!)  Instead of forcing my creativity into a linear list, I let creativity be spontaneously spatial.  One train of thought leads to another and another, and soon I have a page of creative options to solve whatever question lies in front of me.  Feeling a little stuck on where to start with boundaries in your business and life?  Sit down with a blank sheet of paper and let your subconscious go to work.  Focus on situations where you have felt frustrated or uncomfortable, often those feelings are a great road map to a boundary that has been crossed.  Does your brain want to go in a direction that seems outside of the scope of the topic at hand?  Follow it there; often the answer will come from a place that at first doesn't seem connected.  That is the beauty of the way creativity works!
Ask yourself questions and write down whatever responses come in your mind.   Doodle, mind map, make lists, write in different colors/shapes/sizes, there is no right or wrong way to do this!
Brainstorming questions to get you started:
What brings joy in my life and work?
What are some client or project situations that cause discomfort or resentment?
When do I feel most creative during the day/night?
What are a few business situations that I have recently felt frustrated with?
Set limits
Look back on your brainstorm and see what solutions and boundaries your questions and answers suggest.  For example, one of my stressors was clients calling me in the evenings or on weekends.  The boundary that I set is letting all calls go to voicemail after hours and I listen and respond to them at my next scheduled time.  Here are a few more ideas from my life to get you started:
I'm the most focused and creative in the morning so I plan important projects first thing every day and office work right after lunch when I generally experience a normal lull.
I need to maximize my time and I work best with larger blocks of time so I only schedule meetings on certain days of the week to minimize disruptions to my workflow.
I want communication with clients to be professional so I don't conduct business via texting.
Communicate clearly
Communication is KEY.  When I set a boundary of not answering or responding to calls on evenings and weekends I clearly communicated that to my clients via email and verbally the next time I spoke with them.  I let them know what they could expect from me if they did contact me during off hours and when they could expect a response.  The first time I got an email from a client on a weekend that stated "I don't expect you to read or respond to this til Monday morning…" I just about threw a party!
Be Flexible
Some boundaries should never be broken.  If a client asks for something that is illegal – don't do it! (Yes, that has happened to me!) I do not change a boundary that goes against my standards for integrity and character.  However, there are times when other boundaries need to be flexible or change.  When you have boundaries and a need arises you can choose how to respond instead of feeling out of control.  There are times that I work on weekends or long in the night for a deadline.  I clearly communicate to clients what my normal boundary is, why I'm flexing for this specific instance, any changes to normal terms, and when everything goes back to normal.  We all come up again deadlines, vender schedules, postal delays, and other unforeseen circumstances!  In my experience this has been met with appreciation and gratitude.
Follow Through
Once you establish boundaries follow through on applying them!  Put them in writing, get an accountability partner, and consistently evaluate your business policies and processes to make sure that you are following through.  Setting boundaries is a learned skill for most people which means you have to start somewhere!  Start small and it will be less scary and easier to transition clients, those around you, and even yourself to your new boundaries!
Final Thoughts – Creativity is your Currency
Remember – your creativity is the currency your business is built on.
Boundaries allow you to powerfully choose where and how to spend your creative currency.
If you are stressed and run down, spending needless energy and time on clients that are draining your last drop of energy because you have not set boundaries, you will not be able to do your best work.  You owe it to yourself and all those around you to manage boundaries so that you can give your best to the world. 
Being a creative entrepreneur is not a 9 to 5 job.  Creativity does not operate on a corporate timetable and that's ok!    If I wake up in the middle of the night with a creative solution to one of my coaching client's business challenges I don't set it aside because it's not business hours, I quickly jot down a few notes in the notebook next to my bed and go back to sleep.  If I'm out on a run I'll make a voice memo in my phone.  If I'm having my morning coffee and personal time on my deck I'll scribble a few notes in my journal.  I don't want to box in my mind but let my creativity blossom in the direction it wants to go.  Creativity comes from within and as I'm sure most of us have experienced at one time or another, when it wants to come out to play we don't want to shut it down!
Let's Chat
What areas do you see a need for more boundaries in your professional life?
What are some small steps that you can take this week to start instituting boundaries?
What is the biggest thing that you fear in setting boundaries?
What is the biggest thing you can gain in setting boundaries?
Who is someone that you can be accountable to in this process?
All the best,