I am so excited to introduce a new regular feature on the blog!  I want to highlight different creative entrepreneurs in various fields from the up-and-coming to the seasoned veteran business owners.  Often the unique challenges of being a creative in business can feel isolating.  The more I connect with entrepreneurs in fields even very different than mine I find how similar we truly are and I am encouraged and challenged in my own business growth.
Today I want to introduce you to Rachel Tucker, founder and designer at Pantote where she creates beautiful fine leather goods.  Her fall line launches today, and let me tell you, they are fine!   I've known Rachel for about 6 years and can say she's just as beautiful on the inside as she is on the outside!  Outside of being a designer and model, she's also an accomplished musician and songwriter with her husband Mckendree Tucker where they make up the duo – August York.
Enjoy the interview and please, don't judge her for the answer to my last question… there is still hope yet!!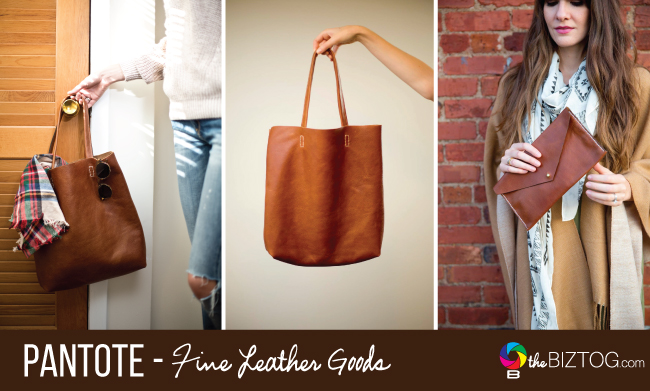 Tell me about you and your business!  
I first started in the fashion industry as a model. I've been a model here in Nashville for 10 years now. Time flies! Because of being a model, I have been exposed to working with designers for years.
I have been working under the name "Pantote" for a little over a year now. All of my products thus far are leather goods, although I may introduce other things in the future.
What inspired you to start your business?
My leather business didn't start as a business at all. In May 2014 when my husband was on tour in South Africa, I was sick over the weekend. I was so stir crazy that I just thought that I had to do something creative with my time instead of watching Netflix all day. I decided to teach myself how to work with leather. I run out of the house, bought a few tools and scrap leather and the rest is history! I was up all night with design ideas and filled with anticipation! Immediately I started posting my progress on Instagram and there seemed to be lots of organic interest.
How did you come up with such a cool name?
When it came time to name my new endeavor, it was easy. I asked McKendree, my husband, and he said, "What about that name you blogged under? Pantote." It just clicked. The name was right. I had discovered the word "pantote" years earlier when brainstorming for a blog name. I fell in love with the word because it means, "Always; for every occasion". I thought that it was perfect for leather work, because leather goods are used everyday and literally for every occasion!
What is your favorite part of being a creative entrepreneur?
I love imagining something in my mind and going through the process of creating. I think creatives have a unique perspective on the world that only they can see. It's a beautiful thing when an idea becomes realized and then put into action.
What business struggle has taught you the most?
I have struggled with learning to manage creativity and how to turn it into a business. It's naive to think that starting a business is all fun… it actually requires a lot of management skills! Haha…
If you were giving one piece of advice to someone launching a new creative endeavor, what would it be?
Just jump in. Get you feet wet and don't be afraid to mess up.

What inspired your fall line?
Inspiration for my 2015 fall line wasn't based on color schemes or even necessarily a specific event. It simply felt like it was time… time for Pantote to really launch. This fall line is inspired by anticipation to collaborate, create, and to enjoy the process!
How do you come up with ideas for new designs?
When I have an idea for a new design it looks different each time. Sometimes I put pencil to drawing paper and there I create as I go. Other times, I see something I like and imagine how to construct it. Then its as if I have the pattern stored in my head already, and I can go from there tailoring it to my liking. I also really enjoy collaborating over concepts and designs, which is more of a give and take setting.
What are some of your goals for the future of Pantote?
I am excited to continue to release new items, collaborate with designers, and expand my repertiore. And besides being really vague, I often dream of leather duffle bags!!
Tell me about your launch and the type of product we'll see!
This is Pantote's first of many lines to come. This fall includes items like beautifully handcrafted tote bags, a variety of wallets, and rustic to refined clutches.
Do you have website? Where can we buy?!
Are you reading/listening to any great books/blogs/podcasts right now?
I just finished the podcast series called, "Serial", about a murder in the late 90's. It's a crazy story!
Do you have any quirky habits when you're working? 
When I'm in the zone working on the computer, I hit the space bar really hard!
Favorite coffee? (Cause this is really important!)
I'm more of a tea person! Give me coconut oolong any day!
Thanks for joining us on the first of many interviews with creatives!
All photos by GraceAnn Visser
All the best,