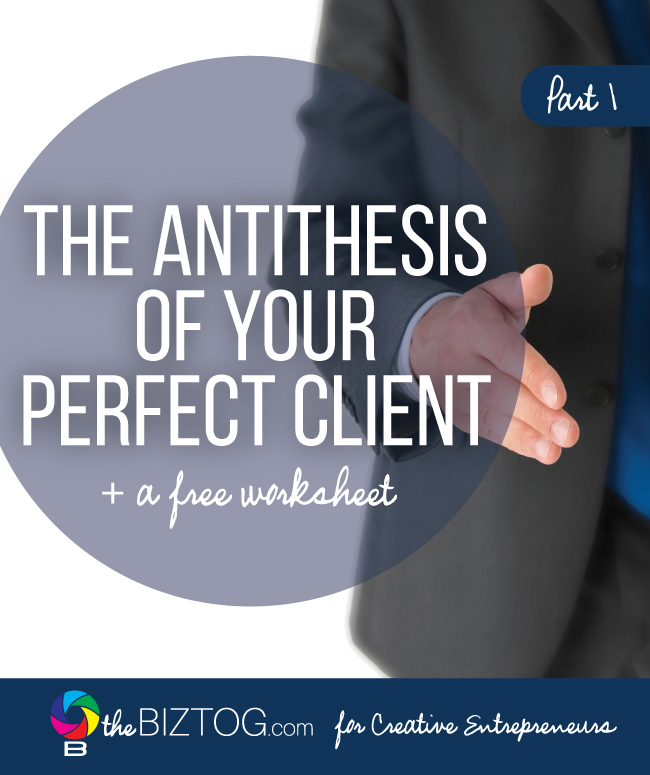 I am greatly enjoying writing the current series on Self Care for the Creative Entrepreneur.  The resulting conversations that I have had with many readers around the world online and in person have enlightened and challenged me in my own journey in so many ways!  I am finding that this is one of those topics where the more time I spend, the more ideas and discussion there are to be explored.  I've decided to make it an ongoing series punctuated with other topics of creative entrepreneurship.  Currently on my desktop I have a document with 94 potential blog posts related to being a creative entrepreneur and creative business.   Every time I have a conversation with a client or think about a particular business success or struggle I feel like I add another topic to my list.  Now to just find the time to write about them all!
The Topic At Hand
Clients.  I've heard the topic discussed in hushed reverent tones, within paragraphs discussing hopeful dreams, desperate adventures, and sometimes even as a swear word!
A hot topic in business conversations is the ideal client.  Google 'Ideal Client Worksheet' and thousands of websites pop up.  Well, about 49,000 to be exact but you get my point!  (You know you want to go and verify that number, right?  I'll wait… *wink*).  What I find people spend much less time determining is who their ideal client is not.
Think about that for a minute.
Have you ever met a potential client, bid the project, got a signed contract, deposit, and started working with them, only to realize too late that the client was not going to be a good fit?  Did you feel stuck and a little powerless in the situation?  I know I have!  Or maybe you're new in business or in a season when business is lean and you're feeling a little desperate and willing to work with almost anyone?  We've all been there!  Knowing who your ideal client is can tell you which direction to go, but knowing what constitutes the antithesis of ideal can help you avoid situations that are not beneficial to all involved.
Recently I spent the day on campus at Lipscomb University in Nashville as the photographer for a lawyer's convention.  It was an enjoyable day shooting corporate headshots, workshops, and an award ceremony with a fascinating group of lawyers that specialize in mediation.  What was very interesting to me in overhearing conversations and keynote speaker was: this group knows exactly what they are looking for in the type of client they wanted to work with.  They also know exactly who their ideal client is not and will not waste time in situations that are not a good fit.  Knowing who your ideal client is not can be an effective directional technique to avoid situations where you find yourself seemingly stuck in a negative working situation.
Common Characteristics of Less Than Ideal Clients
Below is a non-exhaustive list of some of the common characteristics of a client situation that is not a good fit:
The client's personality is not a good fit with yours
The client's expectations are not consistent with the expected price point
The client's timetable of expected completion is too short/too long
The client is looking for a different style of work
The client doesn't know what constitutes a win/win situation
The client doesn't have clear objectives
The client does not have the authority to make decisions
…and the list goes on.
Someone who is not a good client does not always mean they are a bad client.  Often it only means that they are not a good client for you.  I keep a list of other professionals that I trust in the fields I work in so I can refer clients I think may be a better fit in these cases.
Discovering your ideal and less than ideal clients
There are many different ways to determine your ideal and non-ideal clients ranging from age, education, and income to the type of cars they drive, marital status, personality, and more.  All of these various approaches can be very helpful in your business in determining your idea client.  Today I want to keep it quick and simple so that none of us have an excuse to put it off to another day!
Ready to get started?  Ideal Client Worksheet and work along!
Start by making a list of 10 of your most recent clients
Divide these clients into 3 categories, the ones you enjoyed working with the most, those that you felt neutral about with the experience, and those that you did not enjoy working with.  After each client's name, describe the observable characteristics and behaviors that determined why you put them in that category.
Go back to the clients in your 'most enjoyed' category and answer these questions: why did you enjoy working with them? What are some of the attributes that you can look for in future clients that would put them in this category? What are some strategies or questions to ask potential clients in the future that would attract more of this type of client?  Was it the client that made the experience enjoyable?  What are some of the ways that you handled the situation that influenced the interaction and situation?
Go back to the clients in your 'neutral' category and answer these questions: why was this experience neither positive nor negative? Is there anything you could have done to make it a more enjoyable experience?  Would you work with this type of client in the future?  Why or why not?
Go back to the client in your 'did not enjoy' category and answer these questions: why was this a negative situation? How much of the responsibility rested in the client, and how much rested with you? Why? How could have you foreseen some of the issues and dealt with them ahead of time?  What are some ways you could identify this type of client in the future before working with them?
Come back next week for part 2 of this series and another worksheet to further develop your ideal/non-ideal client list!
Let's Chat:
Were you surprised by the clients that ended up in each section?
What are some of the main characteristics of your favorite clients?
How do you think defining your non-ideal client may help your business?
All the best,