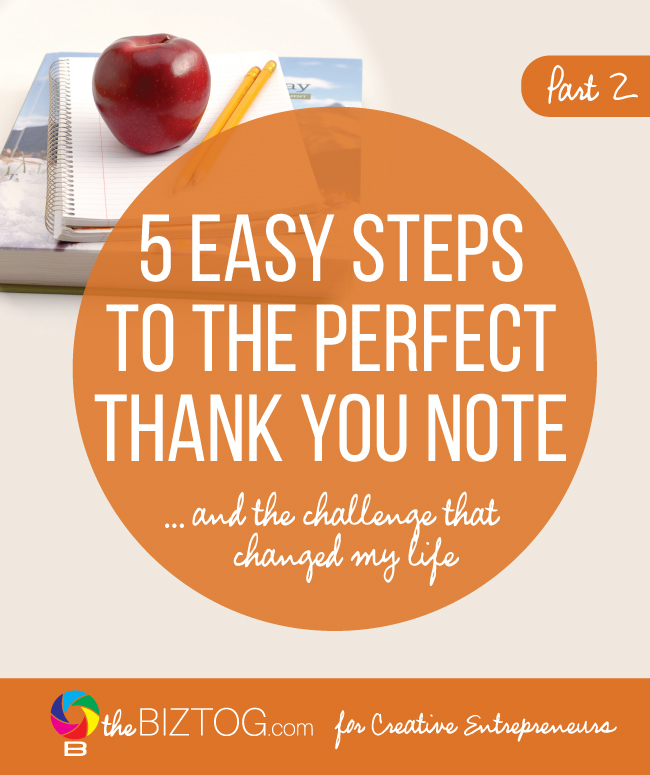 In the first post of a 2 part series on thank you notes, I shared a personal story on how much a handwritten note impacted me as well as who to send thank you notes to in a professional setting, you can find it here: How a Handwritten Thank You Note Can Change Your Business
Today I want to talk about the 5 easy steps to writing the perfect thank you note and leave you with an inspiring challenge for the week!
The anatomy of a 'Thank You'
Be professional
Being professional is not just about the way you conduct business or the words that you choose but also the way you present your business in person and on paper.  It doesn't cost much to have professionally designed and printed thank you notes made to match your business colors and style, I have mine printed in sets of a few dozen at a time to be more cost effective.  Contact me if you need help with this!
Be timely
Send a thank you within a few days to a week of when the action happened.  I try to write thank you notes on the same day but if that isn't possible I write it in my weekly to-do list making sure that it happens by the end of the work week.
Address them by name
Always start the note by addressing the person you are thanking by name instead of just a generic 'hi' or 'hey'.  A person's name is one of the most important words in the world for them to hear.  Have you ever walked into a crowded room where everyone is talking loudly and noticed the way hearing your name spoken completely cut through the noise?
Be specific
Tell them what you are thanking them for and add additional details if applicable.  For example, I just completed a re-branding project for a longstanding client.  In the thank you note not only am I thanking them for their business but I'm expressing my excitement for their business growth, the fact that I'm honored that they've entrusted me with their visual branding over the years, and that I look forward to working with them in the future as they continue to grow.
Be genuine
Remember that people are looking for real and genuine communication, the intent of a thank you is sincere appreciation.  Be true to your style, personality, and the level of relationship you have with the person.   If it's a formal relationship choose a tone that matches, if it's a more informal relationship choose a more casual but still professional tone.
A note about including your business card…
Many professionals feel that including a business card in written correspondence should be an 'always' in the interest of keeping your contact information in front of clients.  Personally, I let my gut feeling lead me on this one.  If you receive a thank you note from me I want you to feel that it's sincere and not just a marketing technique to get my business card in your hand.  I always make sure that my contact information is printed on the card itself so that including a business card or 2 is only necessary if it feels appropriate to the situation.  I think this choice varies a lot between different professions and situations.  I'd love to hear your thoughts in the comments below!
My challenge for you today is to pick 6 people to send thank you notes to over the next few weeks:
A client – Follow the steps outlined above to show appreciation for their business,
A business mentor – How has their input into your life impacted who you are as a creative entrepreneur today?  If you haven't had a specific mentor, who is someone in your field that you have gleaned from that you can express appreciation too?
A colleague – Who is someone in your field that you think is doing an excellent job or been an encouragement to you?  I worked as a wedding photographer for a number of years.  Recently at a friend's wedding I was extremely impressed with the professionalism and skill of their photographer.  After the wedding I looked up their Facebook page and left them a note telling them as a fellow professional how much I appreciated their excellence and attention to detail.  By their response I knew that it meant a lot to them.  It felt amazing to know that just a few minutes of time invested impacted someone.
A teacher – Think back to college, high school, or even earlier to an educator who invested in you and saw something in you that you didn't even know was there.   Someone who pushed you to go further than you thought you could.  When I was first given a 'thank you' challenge I reached out to my college debate professor to thank him for the way that he challenged me.  His guidance led to a lot of personal growth and has been a contributor to my professional success.  Later when I decided I wanted to return to school for a graduate program he was the one that wrote a faculty recommendation that got me into the program of my choice.
A family member – Your spouse, parents, a sibling, or extended family member – who is someone that you can express appreciation to for their investment and impact in your life?
A friend –Every year that passes I realize more and more the value of real friendship.  How often do we stop to verbalize that to the people that mean the most to us?
You'll notice that only two items on the list above are directly connected with business.  I don't believe that a thank you note should just be a line item on a schedule or something that we whip out of our business tool box when necessary, but something we practice as a discipline in our daily life.
Let's Chat:
How did you feel writing thank you notes?
Which ones were the easiest and most challenging to write and why?
What kind of responses did you receive?
All the best,